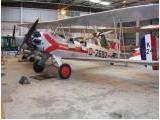 Looking for:
Museums / Galleries, Transport
Address:
Old Warden Aerodrome,
Old Warden,
Biggleswade,
Bedfordshire
Postcode:
SG18 9EP
Age Group:
All Ages
Kids Activity:
Indoors and Outdoors
Telephone:
01767 627927
Website:
Click Here
Attraction Information:
---
The Shuttleworth Collection home of the 'Edwardian Flying Machines'!
The Shuttleworth Collection - a unique flying collection showcasing the first one hundred years of flight.
The Collection is famous for its regular flying displays. During the season, all of the airworthy aircraft are flown in displays, alongside visiting aircraft from other operators and from other Services, re-creating flying during the Edwardian period, the First World War, the peacetime years of the twenties and thirties and the Second World War. Modern aircraft are also a regular feature and provide an intriguing contrast with the veteran and vintage types.
.
Vintage Cars:
Today the Shuttleworth Collection is displayed in eight hangars, which include a workshop hangar giving close up views of restoration and maintenance, a garage displaying the cars, motorcycles and other vehicles such as the Clayton and Shuttleworth steam traction engine and a separate coachroom for the horsedrawn carriages. Displays often include the Collection's veteran and vintage cars, including several which have regularly completed the London to Brighton run. Old Warden Aerodrome is also a popular rally venue for car owners' clubs, particularly for vintage cars.
Adults £12.00
(On non event days)
Seniors £10.00
(On non event days)
Accompanied Children up to 16 yrs FREE when with paying adults. Maximum number of children four.
For all adult groups, youth groups, cubs, beavers, cadets, play schemes, please telephone our groups organiser 01767 627924
Admission includes a gift aid donation.
At certain times during the year there is a charge for car parking of £3, this can be redeemed against Collection admission or a hot meal in the restaurant