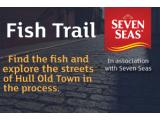 Looking for:
Sightseeing
Address:
Seven Seas Fish Trail
Tourist Information Centre
79 Carr Lane Queen Victoria Square
Hull
North Yorkshire
Postcode:
HU1 3RQ
Telephone:
01482 300300
Website:
Click Here
Attraction Information:
---
Find the fish; explore the city. Follow Hull's unique pavement of fish, an A- Z of fish creating a tour of the historic Old Town.
41 pieces of sculpture made from traditional materials make up this impressive piece of public art. The artist Gordon Young created the trail of sculptures in 1992 - representing the actual size of fish with life size pieces, from a tiny anchovy to a 10ft ray. His sense of humour surfaces with the placing of a plaice in the market place, an electric eel outside the electricity sub station and a shark outside a bank...
The trail leaflet is free of charge and, if you complete the trail, you can receive a free certificate from Hull Tourist Information Centre.
Admission:
Free!
Opening Times:
Hull Tourist Information Centre is open Monday to Saturday - 10am to 5pm.
Sunday - 11pm until 3pm.