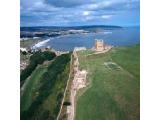 | | |
| --- | --- |
| Looking for: | Historical, Heritage |
| Address: | North Yorkshire |
| Postcode: | YO11 1HY |
| Telephone: | 01723 372451 |
| Website: | Click Here |
Attraction Information:
---
Scarborough Castle defends a prominent headland between two bays, with sheer drops to the sea and only a narrow landward approach. Specially constructed viewing platforms on the battlements offer panoramic views. Long before the castle was built, this natural fortress was favoured by prehistoric settlers – a splendid Bronze Age sword, perhaps deposited here as a sacrifice to the gods, is on display – and later housed a defended Roman signal station.
Henry II's towering 12thcentury keep, dominating the approach, is the centrepiece of fortifications developed over later centuries in response to repeated sieges – notably by rebel barons in 1312, and twice during the Civil War. Though again strengthened with barracks and gun-batteries against Jacobite threats in 1745, the castle failed to defend the harbour against the American sea-raider John Paul Jones in 1779, and was itself damaged by German naval bombardment in 1914. During World War II it played the more covert role of hosting a secret listening post.
The site's 3,000-year history is explored in interactive displays in the restored Master Gunner's House, accompanied by artefacts from each period of Scarborough's past. Less mobile visitors can enjoy a groundfloor touch-screen virtual tour of the displays, as well as virtual views reproducing those from the raised platforms.
Timelined graphic panels around the castle focus on characters from the past, and there are free activity sheets, an audio tour and an investigative story box to help younger visitors visualise and understand the history of the castle.