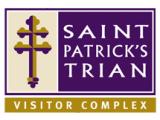 Looking for:
Heritage, Museums / Galleries
Address:
Saint Patrick's Trian Visitor Complex
40 English Street
Armagh
Postcode:
BT61 7BA
Age Group:
All Ages
Kids Activity:
Indoors
Telephone:
028 3752 1801
Attraction Information:
---
Craftswirl is now open at the Tourist Information Centre.
Craftswirl and the Tourist Information Centre are open Monday – Saturday 9.00am – 5.00pm.
Saint Patrick's Trian is an exciting visitor complex located in the heart of the histroric Cathedral City of Armagh. The centre derives its name from the ancient division of Armagh City into three distinct districts, or 'trians' (pronounced 'tree-an).
The Complex incorporates three major exhibitions. 'The Armagh Story' traces the story of Armagh's development from the stone monuments of pagan times, through to the coming of Saint Patrick and Celtic Christianity, to the modern day City . 'Patrick's Testament' takes a closer look at Ireland's patron saint through the writings found in the ninth century manuscript 'The Book of Armagh'; one of Ireland's most precious historical documents and currently housed in the Library of Trinity College Dublin.
Adult: £5.50
Child: £3.75
Concession: £4.50
Family £15.75
Group Adult £4.50
Group OAP £3.95
Group Youth £3.95