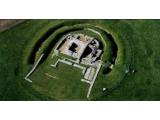 Looking for:
Animals & Farms, Historical, Heritage, Outdoor / Active
Address:
Bellona
Rousay
Orkney
Postcode:
KW17 2PU
Telephone:
(01856) 821234
Website:
Click Here
---
Set within the wild Atlantic Ocean lie the three small Islands of Rousay. Egilsay and Wyre. From the Stone Age to the present day the seas have brought settlers and visitors alike to these beautiful Islands. Rousay is the largest of the three with a population of some 222. Egilsay and Wyre have a population of 26 and 24 respectively. A modern roll on, roll off ferry serves the three Islands. With a journey time of just 20 minutes and a ferry from mainland Orkney every two hours we are easily accessible.

With over 166 sites of archaeological interest and an important crofting history, the three Islands provide a rich and rewarding spectrum of mans settlement in these ancient Isles. Farming. on both land and sea, is the mainstay of employment. An established organic salmon farm and the newer venture of a cod farm can be found on Rousay. Traditional methods of land farming are still carried out here. Calves stay with their mothers until well grown and the bull runs with the herd! Sheep graze the heather covered hills.

An abundance of wildlife can be seen - seals basking on the rocks, otters fishing in the shallows and a wide variety of resident and migratory birds. In the summer the roadside verges are covered with many wild flowers, including orchids. The air is pure, the sea a deep azure blue, the views stunning. Peace and tranquillity are all around and the natives are friendly — if one of the locals waves to you from his car, please wave back — it is one of our customs.