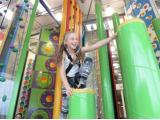 Looking for:
Active, Childrens Activities
Address:
Rock Up
Whiteley Shopping Centre
Whiteley Way
Whiteley
Hampshire
Postcode:
PO15 7PD
---
Rock Up is the thrilling indoor climbing adventure at Whiteley which is guaranteed to keep the whole family entertained.
Rock Up and Climb has 26 thrilling climbs to explore with over 70 different challenges to satisfy all levels of experience and get the blood pumping and hair raising. Scale the Skyscraper, try out the Twister or see if you are brave enough to try out the Leap of Faith. Using auto belay devices which take in the slack as you climb and then lower you gently to the ground, there has never been an easier way for the whole family to have fun together.
Rock Up and Play offers the under 5s their own vertical challenges with 4 levels of fun waiting to be explored: obstacles to climb under, over and through; slide; ball pond; swings and dedicated area for the under 2s.
Rock Up and Eat is our in-house cafe offering home-cooked food and great-tasting coffee.
Admission:
Climbing:
Adult £15 peak, £12 off peak
Child £12 peak, £8 off peak.
Soft play:
Babies under 6 months Free.
Non walkers £2
Walkers £5 peak, £4 off peak.
Opening Times:
9am to 8pm Monday through Saturday.
9am to 7pm Sunday.
Peak hours are Friday 3.30pm to close on Sunday.