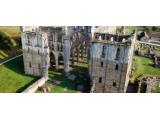 | | |
| --- | --- |
| Venue Info: | Parking |
| Looking for: | Heritage, Historical, Parks & Gardens |
| Address: | Rievaulx, Nr Helmsley, North Yorkshire |
| Postcode: | YO62 5LB |
| Age Group: | All Ages |
| Kids Activity: | Outdoors |
| Telephone: | 0370 333 1181 |
| Website: | Click Here |
---
Escape to this tranquil valley of the North York Moors and discover the impressive ruins of one of England's most powerful Cistercian monasteries.
Our new visitor experience shines a light on Rievaulx Abbey's fascinating past and the lives of the monks who called Rievaulx Abbey their home. Explore our elegant museum displaying previously unseen artefacts which tell the story of the rise and dramatic fall of the first Cistercian abbey in the North of England.
Wander the extensive ruins of the abbey to discover more about the building and how it looked at various stages of its development. Pick up an audio tour to learn more or hunt for clues of medieval life with our family trail.
Take in the stunning views from our new visitor centre while enjoying a tasty treat in our new tearoom and appreciate why St Aelred's 'everywhere peace, everywhere serenity' description of Rievaulx Abbey could quite easily have been written today.
FURTHER PRICING DETAILS:
Prices are valid from 1 April 2017 to 29 March 2018.
ABOUT GIFTAID
About Gift Aid The Gift Aid admission price includes a voluntary donation of 10%. Provided you have paid enough UK Income or Capital Gains Tax * (to cover all of your Gift Aid donations in this tax year), English Heritage is able to reclaim tax on the whole amount you have paid - that's 25p on every £1. This extra money enables us to undertake vital conservation and education projects and ensure that many of England's most important historic sites can continue to be enjoyed by future generations. * Other taxes such as Council Tax and VAT do not apply.
OPENING TIMES
1 APRIL - 30 SEPTEMBER 2017
NOTES
Tearoom shuts half an hour before the Abbey.
HOLIDAY OPENING TIMES FOR THIS PERIOD
Good Friday
14 Apr 2017
10:00 - 18:00
Easter Sunday
16 Apr 2017
10:00 - 18:00
Easter Monday
17 Apr 2017
10:00 - 18:00
Early May Bank Holiday
Spring Bank Holiday
29 May 2017
10:00 - 18:00
Summer Bank Holiday
28 Aug 2017
10:00 - 18:00
1 OCTOBER - 31 OCTOBER 2017
1 NOVEMBER - 23 DECEMBER 2017
24 DECEMBER - 26 DECEMBER 2017
27 DECEMBER - 31 DECEMBER 2017
1 JANUARY - 11 FEBRUARY 2018
12 FEBRUARY - 18 FEBRUARY 2018
19 FEBRUARY - 29 MARCH 2018
30 MARCH 2018 ONWARDS
Opening times will be available nearer the time