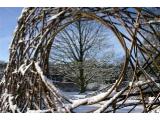 Venue Info:
Baby Facilities, Cafe, Disabled Facilities, Parking
Looking for:
Childrens Activities, Creative / Learning, Outdoor / Active, Parks & Gardens
Address:
RHS Harlow Carr
Crag Lane
Harrogate
North Yorkshire
Postcode:
HG3 1QB
Kids Activity:
Outdoors
Telephone:
01423 565418
Website:
Click Here
Attraction Information:
---
The £3.3 million Bramall Learning Centre has been officially opened. This innovative new centre is one of the UK's greenest buildings and will provide free education facilities for more than 10,000 children every year.
About this exciting project
The Bramall Learning Centre has been designed to be carbon neutral; in fact every element of this innovative building has been created with environmental sustainability and biodiversity in mind.
The learning centre features:
Three flexible teaching spaces, equipped to provide a range of learning experiences for children and adults
The new Blundell Library where anyone can consult the latest publications on plants and gardening
Outside is the Montague Burton Teaching Garden to help adults and children learn practical garden skills, a wildlife pond and a living roof.
In addition to construction using renewable and recycled materials, the two-storey s-shaped building incorporates numerous features to minimise energy consumption. These include sun pipes to channel natural light into rooms, a ground source heat pump, solar panels and a wind turbine.
Liz Thwaite, Head of RHS Garden Harlow Carr says: "We are absolutely thrilled with the opening of the Bramall Learning Centre in Harlow Carr's 60th year. Its creation is a tremendous achievement for all those involved."