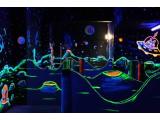 Looking for:
Active, Childrens Activities
Address:
Quasar Sheffield
4 Bank Street
Sheffield
South Yorkshire
Postcode:
S1 2DS
Telephone:
0114 2721400
Website:
Click Here
Attraction Information:
---
Quasar Sheffield offers a terrific little laser tag arena, with glow in the dark features and other awesome visual and sound effects to make it really immersive! You can stalk your sister (and everyone else) through the semi darkness of the maze, armed with your trusty laser cannon and the knowledge that if anyone 'hits' you you've got several seconds afterwards to scramble to safer ground before they're allowed to shoot you again! There are loads of structural features to hide behind in their cool high tech set up, with immersive rooms like the air lock chamber to negotiate, with ultra violet lighting and a few surprises!
The main course is for over 7s but they also run a Zap Zone especially designed to give under 7s a similar gaming experience but with sized down equipment and of course a lower age range throughout.
Admission:
1 game £4
2 games £6
3 games £8
Family pass available.
Opening Times:
Monday to Friday 11am til 10pm
Saturday 9am til 10pm
Sunday 10am til 8pm
After 8pm there is a minimum group size required, so check ahead if you're going late!