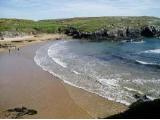 Looking for:
Beach / Seaside, Outdoor / Active, WaterFun
Address:
Porth Dafarch Beach
Holyhead
Anglesey
Postcode:
LL65 2LS
Kids Activity:
Outdoors
Telephone:
01248 713177
Attraction Information:
---
Porth Dafarch is yet another great beach on this island. Nestling below some truly beautiful rugged headland, this is a superb beach for family activities.
Due to its position it is reasonably well sheltered from the open sea.
You often sea a yacht or two anchoring in the cove and the beach is occasionally visited by canoeists.
Divers sometimes use Porth Dafarch as a base when searching for shipwrecks along the coast.
There is an abundance of rock pools along the shore and this is good news for parents.
Children really seem to enjoy the challenge of discovering different forms of sea life in these places.
So there is after all, an opportunity to learn while enjoying a holiday.
As this beach has been awarded the prestigious European Blue Flag , you should be confident of the quality conditions for bathing.