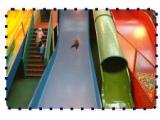 Venue Info:
Cafe
Looking for:
Indoor Play Areas
Address:
PlayZone Lincoln
Cross Street
Lincoln
Lincolnshire
Postcode:
LN5 8LD
Kids Activity:
Indoors
Telephone:
01482 441441
Website:
Click Here
---
Looking for a Play Centre designed with the whole family in mind? Look no further!

Kids of all ages (even the grown up ones!) love our play centres. Where else can you go where the whole family can play together? There is something for everyone, we have regular play sessions, Parent and Toddler sessions, Adult and Student Nights, Birthday Parties.

Alternatively you can hire the whole venue for your special event. We are totally flexible – if you have something in mind get in touch and we would be happy to discuss your plans.
The main attraction at PlayZone Lincoln and Big Fun Hull is our monster slides. We have huge drop slides, tube slides, double drop slides and multi lane astro slides at both centres. Kids and adult
adrenaline rush is totally addictive!!
PlayZone is Lincoln's coolest play centre. A massive 10,000 sq.ft packed to the brim with play equipment designed to stimulate and challenge all ages.

No where else in the area allows Mum and Dad to play freely alongside their kids and at PlayZone we actively encourage full family participation!

PlayZone is the perfect fun venue whether you are just looking for a couple of hours of physical family fun, planning a birthday party celebration, a special event or looking for somewhere where your toddler can develop their strength and coordination through physical play with you right alongside them encouraging them every step of the way.


Our hours of play and prices

Day Time and Early Evening play sessions:

Monday 10am to 7.30pm

Tuesday 10am to 7.30pm (open at 11am during term time due to special needs session)

Wednesday 10am to 7.30pm

Thursday 10am to 7.30pm (please note we are closing early Thursday 11/12/14 for our staff Xmas party)

Friday 10am to 7.30pm

Saturday 10am to 7.30pm

Sunday 10am to 6.00pm

On Bank Holidays we close at 6pm. The play equipment closes 15 minutes before the stated closing times. During quiet times we may close early and operate a last admission time of 6.30pm Monday to Saturday and 5pm on Sundays and Bank Holidays. If you are travelling to us for a play late in the day we always advise you call ahead to ensure we are going to be open.

Under 1's are FREE with paying sibling
Under 4's – £4.50
4 and over – £5.95
Accompanying Adults – £1.00

(During peak times play time may be limited to 2 hours)
(Please note: where the children are ALL aged 13 and over they are welcome to play but only at the following times: Monday to Saturday – after 5.00pm: Sunday and Bank Holidays – after 4.00pm) All of our other normal rules of play apply.

Parent and Toddler: (weekdays term time only 10.00am – 1.30pm) – £2.95. Pre school children enjoy a weekday term time concession during term time only for a parent and toddler

Additional toddlers charged at: – £2.00
Additional adults charged at: – £1.00

Please note on Tuesdays, during term time only, we donate the first hour of the day to Lincoln's special needs community so we open at 11am. Due to the Easter holidays our next special needs session will be 29 April 2014.

Adult / Student Night
Every Tuesday night from 7:30pm to 9:30pm for over 16's only – £5.50
with valid student id – £5.00