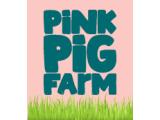 Looking for:
Animals & Farms, Indoor Play Areas, Outdoor Play Areas
Address:
Pink Pig Farm
Holme Hall
Holme
Scunthorpe
Lincolnshire
Postcode:
DN16 3RE
Kids Activity:
Outdoors
Telephone:
01724 844 466
Website:
Click Here
---
Welcome to the Pink Pig. The Jackson family has farmed here since 1929, and the farm's history of producing good, natural food for the local community stretches back more than 400 years.
We believe in growing and making delicious fresh produce at prices real people can afford – so come in and sample what we have to offer. We hope you enjoy the Pink Pig experience as much as we do.
Enter through the NEW indoor play area
Sofa seating, proper coffee, homemade cakes and LOADS of soft play!
1. Squeeze through the rollers
2. Jump on the giant balls
3. Wobble on the uneven floors
4. Climb to the top and then slide down the wiggly slide (Time may be restricted on busy days)
Don't stay too long..too much to do outside...
5. Say hello to our pigs, sheep, ducks, geese, chickens, rabbits, guineas and Al-pacas
6. Race our rubber ducks
7. Get lost in the wooden maze (Watch out, it's dark!)
8. Slide down our zip wire
9. Splash in the water play
10. Hold the animals! (Check signs in the play area for times)
11. Try the 'piggy whizzer'
12. Play our giant musical instruments
13. Take a trailer ride to see our lovely free range pigs (Check in the play area for times, Rides are weather dependent)
14. Race the grass toboggans
15. Play in our giant sandpits
16. Swing in our bale pool
17. Ride on the tractors
April - October 2015:
Monday to Saturday
9.30am - 5.00 pm ( Shop )
9.30am - 4.45 pm ( Restaurant - Hot food until 3.00pm only )
Sunday and Bank Holidays
10.00am - 4pm
Play Barn & Farm Park Opening Time:
April to October 2015
Monday to Saturday
9.00am - 5.30pm
Sundays
9.00am - 5.00pm
Admission Prices:
Weekdays (Term Time)
Play Barn & Farm Park:
Children:£4.50 Adults:£2.50
Play Barn Only:
Children:£3.50 Adults:£1 (50p if Loyalty Card Holders)
Weekends ( And School Holidays)
Play Barn & Farm Park:
Children:£6.99 Adults:£4.50
After School ( 3pm onwards)
Play Barn and Farm Park:
Children: £3.50 Adults: Free ( Plus - £1 off any meal for children and adults)
Family Day Pass:
2 Adults 2 Children £19.99 - 2 Adults 3 Children £25.00
Children under 2 years are free of charge when accompanied by a full price paying toddler.Otherwise £1.