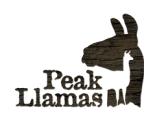 Looking for:
Childrens Activities
Address:
Peak Llamas
Stanley Moor Farm
Great Hucklow
Derbyshire
Postcode:
SK17 8RL
Telephone:
07739 763636
Website:
Click Here
Attraction Information:
---
Stanley Moor Farm is nestled in the heart of the Peak District and
has been our home since 2004. We've steadily built up our collection
of animals, starting with a few hens and a couple of orphan lambs,
and we're now sharing our life with over 80 pets – oh, and 3 children!
The Chatsworth Trek (A):
£50 per adult. £80 per couple.
Children go free but must be supervised (ratio of 1 adult for every three children).
Car park charge of £2
Opening Times:
Treks are offered at a variety of times and dates.
Peak Llamas is open daily 9am to 5pm.