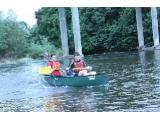 Looking for:
Parks & Gardens, Outdoor / Active
Address:
Paddles and Pedals Canoe Hire
15, Castle Street
Hay-on-Wye
Hereford
Herefordshire
Postcode:
HR3 5DF
Kids Activity:
Outdoors
Telephone:
01497 820604
Website:
Click Here
Attraction Information:
---
We invite you to 'get away from it all' and discover the beauty of the River Wye.
The Wye is one of the most beautiful rivers in the British Isles and one of the few you can navigate, without restriction, for over 100 miles.
It meanders through picturesque countryside to where it joins the River Severn at Chepstow and is well populated with wild life.
Herons, Cormorants, Kingfishers, Swans and Otters are frequently seen.
This peaceful setting is the ideal place to spend a few hours, a day or even a week.
Hire a canoe.
Leave your car on our free riverside car-park.
Take a picnic (we provide barrels)...
...then canoe downstream.
We will pick you up, Free of Charge, from one of the designated access points and return you to your car.
Should you have any distance to travel to return home, bring along a change of clothing in case you get wet!
Wear something old to paddle in, together with old trainers, sandals or 'crocs' - NO WELLINGTONS.
Don't forget your sun-cream and hat if it is sunny.
If you decide to go for a few days or a week we can provide you with details of camp-sites and directions to the nearest pub for an evening meal.
Again, we pick you up at the end of your holiday and bring you back to Hay and your car.
For those who prefer home comforts, there are a few B&B establishments along the Wye.
(It is advisable for people to have had some experience before going on the river - particularly those taking children).