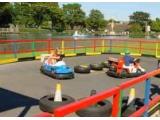 Looking for:
Childrens Activities, Outdoor / Active, Outdoor Play Areas, Parks & Gardens
Address:
The Park
Onchan
Isle of Man
Postcode:
IM3 1HT
Age Group:
All Ages
Kids Activity:
Indoors and Outdoors
Telephone:
+44 (0)1624 675564
Website:
Click Here
---
There is a large childrens' playground where all children, regardless of age and ability, can enjoy playing on the wide range of play equipment.
Younger children will love the battery-operated kiddi-cars and a cruise on the lake in a real motor boat. Older kids will have fun on the bumper boats, the go-karts or the monster truck. The Dance and Fun Factory also have an indoor soft play area.
The entire family will enjoy a round of crazy golf or mini-golf (pitch and putt).
Energetic adults may wish to play a few sets of tennis or perhaps a more leisurely game of crown green bowling or flat green bowling. For refreshments, visit the Views Coffee Shop for great coffee, cold drinks, snacks and ice cream, or treat the family to a lunch or evening meal in the Views Restaurant.
Nivison Stadium is also the home of stock car racing on the Island. Onchan Raceway operate stock car meetings weekly from April to September.
The park also hosts a number of additional events throughout the season, such as Easter egg hunts, a roller-rink, marching bands, the village fair, motorcycle displays, dog obedience shows, play days, bowls competitions and model boat exhibitions.
Disability access is excellent and there are adapted toilets near the coffee shop.
The main feature of the park was the stadium. Started in 1948, it took 3 years to make the first ever banked cycle track. The park costing £50,000 included a grandstand, cafe, changing rooms, bowling green, tennis courts, putting green, miniature gold and a children play area. Once completed it proves itself the pride of the Island. Since then many improvements have been made, including the creation of a boating lake. The stadium has also undergone change with a move from cycle racing to karting, stock cars and football.
By Vehicle:
Travel to Douglas and then along the promenade. Turn up Summer Hill Road and then right along Hague Drive. The area is well sign posted.
By Bus:
Take any bus to Douglas and then the no. 25 or 26 bus to Onchan Pleasure Park.
By Railway:
Take the Steam Train or Electric Tram to Douglas and then catch the no. 25 or 26 bus to Onchan Pleasure Park. An able person will be able to walk from to the Pleasure Park without the need of a bus. Follow vehicle instructions.
Site
* Motorboats
* Bumper boats
* Putting
* Crazy Golf
* Miniature Golf
* Swing Ball
* Battery Operated Kiddie Cars
* Mini Marina
* Crown Bowls
* Flat Bowls
* Tennis
* Lady Taverners Playground
Charges for 2014 season:
Prices:
Motor Boats (¼ hour)
£4.50
Bumper Boats (10 minutes)
£3.00
Crazy Golf
Adult: £2.50
Child: £1.50
Family (2 Adults+2 Children): £6.00
Mini Golf
Family (2 Adults+2 Children)
Adult: £3.50
Child : £1.50
Mini Golf: £7.00
Battery Operated Kiddie Cars
£1.00 coin in slot
Bowls (Inc hire of bowls)
£2.50 per hour
£5.00 per morning/afternoon/evening session
Tennis
Adult: £2.50 per person per hour
Child: £1.50 per child per hour
Day Ticket (Unrestricted ticket per family per day)
£20.00 for family of up to 4
£25.00 for family of up to 6