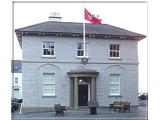 Looking for:
Heritage, Historical
Address:
Old House of Keys
Castletown
Isle of Man
Postcode:
IM9 1LA
Kids Activity:
Outdoors
Telephone:
01624 648000
Website:
Click Here
---
The history of the Old House of Keys building is one chapter in the long, and often turbulent, history of Manx politics which stretches back to the 9th and 10th centuries when the Viking Kings ruled the Isle of Man
After it ceased to be used by the Members of the Keys, the Old House of Keys building led a chequered life. Manx National Heritage has restored the Old House of Keys to provide visitors with an insight into the political life and times of the Island. We hope that you enjoy this chapter of 'The Story of Mann' and will discover the other sites of political interest, past and present, around the Island.
The Old House of Keys is the fascinating former home of the Manx Parliament and centre of 19th Century political life on the Isle of Man.
Meet the costumed secretary of this historic building; take a seat in the finely restored debating chamber; watch as the talking head of Mr Speaker and animated portraits of Members of the House come to life!
Discover how democracy developed on the Isle of Man.
Decide whether women should get the vote.
Admission:
Adult £5
Child (under 18 years): £2.50
Opening Times:
Booking required.