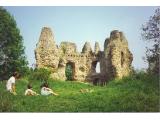 Looking for:
Historical
Address:
Odiham Castle
Odiham
Hampshire
Postcode:
RG29 1HQ
Age Group:
All Ages
Kids Activity:
Outdoors
Website:
Click Here
---
t was one of only three strongholds built by King John, to add to the ninety he already had at his disposal, and the site was chosen because it lay halfway between Windsor and Winchester. King John may have decided on Odiham as a suitable site for a castle on his visit to the town in 1204. Construction began in 1207 and continued until 1214.
The architects and engineers chose, and possibly modified, a bend in the River Whitewater as the best defensive location, and 'took 20 acres from Robert the Parker', for the purpose. The accounts of the castle's construction describe the setting out of 'square moats', the raising of banks and palisades, and work on the domus regis, or 'king's house'. Details of expenditure survive in the Pipe Rolls, and a sum in excess of £1,000 was spent on the building over the seven-year period.
In 1216, soon after it was finished, the castle suffered a two-week siege at the hands of the French, but it flourished during much of the 13th century, when it was home to the de Montfort family. Simon de Montfort married King John's daughter Eleanor in 1238, just two years after she had been granted the castle by her brother, King Henry III. This union would have made Odiham one of the most powerful households in the land and Simon was to become a leading figure in the baronial stand against Henry, until he eventually paid with his life at the Battle of Evesham in 1265. Eleanor was exiled.
In the 14th century the castle played a part in the Despenser's rebellion, was host to a sitting of Parliament, and for eleven years was prison to a Scottish king. By the 15th century, however, it was used only as a hunting-lodge, and in 1605 was described as a ruin.