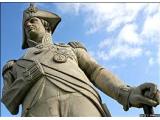 Looking for:
Heritage
Address:
Trafalgar Square
London
Postcode:
WC2N 5DN
Age Group:
All Ages
Kids Activity:
Outdoors
Telephone:
+44 (0)20 7983 4750
---
Trafalgar Square is home to Nelson's Column, the famous stone lions, the infamous fourth plinth and a lot of pigeons.
It's a must-see destination for visitors to London. You'll often find cultural events, performances, shows and other special activities going on in the square by the fountains.
At Christmas you'll find the biggest Christmas tree in London, a gift from Norway.