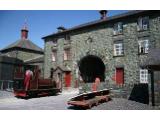 Looking for:
Heritage, Museums / Galleries
Address:
National Slate Museum
Llanberis
Postcode:
LL55 4TY
Age Group:
All Ages
Kids Activity:
Indoors
Telephone:
(0)1286 870630
Website:
Click Here
Attraction Information:
---
Dinorwig Quarry closed in 1969. Today – rather than fashioning wagons and forging rails – the workshops tell a very special story: the story of the Welsh slate industry.
The National Slate Museum is sited in the Victorian workshops built in the shadow of Elidir mountain, site of the vast Dinorwig quarry. Here you can travel into the past of an industry and a way of life that has chiselled itself into the very being of this country.
The Workshops and Buildings are designed as though quarrymen and engineers have just put down their tools and left the courtyard for home, while an array of Talks and Demonstrations including slate-splitting give you a real insight into quarry life.
You'll hear the gripping Story of Slate, encompassing such great events as industrial unrest on the one hand, and the small details of everyday life on the other. Fron Haul recaptures significant periods from the slate industry with a row of quarrymen's houses on the museum site. Strikes and suffering, craftsmanship and community: all the drama of real people's lives.

Easter - End of October: 10.00am - 5.00pm, daily
Beginning of November - Easter: 10.00am - 4.00pm, closed Saturdays.
Free entry!