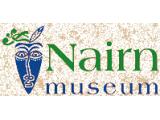 | | |
| --- | --- |
| Looking for: | Museums / Galleries |
| Address: | Nairn Museum, Viewfield House, King Street, Nairn |
| Postcode: | IV12 4EE |
| Telephone: | (0)1667 456791 |
| Website: | Click Here |
---
For over one hundred and thirty years, Nairn Museum has fascinated generations of visitors of all ages and interests. It is an outstanding example of a local community museum, which combined with a rich and varied international collection, has ensured that it occupies a fond place in the hearts of the residents and the many visitors who pass through this busy seaside town.
The museum was started in 1858 when the first donation was given by Miss Grant of Larkfield. From this came a local newspaper article, and in response the community of Nairn supplied a wide and rich range of artifacts which came to form the basis for the museum we know today. Nairn Museum is largely a tribute to the pioneering and enterprising spirit of the town, which has produced many notable and highly respected public figures including international explorers, travellers, geologists, servicemen and collectors. It is due to the dedication and care of these people, and the work of the members of the Literary Institute, that the collections have been preserved so well, and have grown to the size they are today.
Amongst these notable figures are Dr. John Grigor, who promoted Nairn as a health resort, was a founder of the museum and was the first Chairman of the Literary Society; and James Augustus Grant, born in Nairn, who was at the discovery of the source of the River Nile. At a local level, the museum has a rich social history collection, and there is the opportunity to relive the hardship which was inherent to the town's key industries of fishing and farming. The displays relating to these areas focus on the reality of these difficult lifestyles and there are many familiar household and agricultural objects.
The museum has a fine collection of local and foreign Natural History. Nairn Museum is particularly proud of its internationally renowned mineral and fossil collection, which includes specimens from as far away as Greenland and Scandinavia, as well as rocks from the Moray Firth area. The museum has numerous local photographs, postcards and newspaper extracts which form a valuable archive reflecting the changing face of Nairn and the surrounding landscape. Nairn Museum is a delight to visit, and is only one of a small number of museums which can claim to have something of interest for all visitors in its extraordinary collection.
Opening hours: Monday to Saturday, 10.00 am to 4.30pm, May to September. Please contact the Curator if you would like to bring a group or school party to the museum. The museum can be opened October to May by appointment. Please contact the Curator for details.