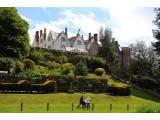 Looking for:
Heritage, Museums / Galleries
Address:
St Fagans
Cardiff
South Wales
Postcode:
CF5 6XB
Age Group:
All Ages
Kids Activity:
Indoors
Telephone:
029 20573500
Website:
Click Here
Attraction Information:
---
A walk around Wales – from Celtic times to the present day. St Fagans is one of Europe's leading open–air museums and Wales's most popular heritage attraction.
Before visiting why not watch our taster video and see the magic of St Fagans for yourself.
Open to the public since 1 November 1948, the museum stands in the grounds of the magnificent St Fagans Castle and gardens, a late 16th-century manor house donated to the people of Wales by the Earl of Plymouth.
During the last fifty years over forty original buildings from different historical periods have been re-erected in the 100-acre parkland, among them houses, a farm, a school, a chapel and a splendid Workmen's Institute.
Traditional crafts and activities bring St Fagans alive, in workshops where craftsmen still demonstrate their traditional skills. Their produce is usually on sale. Read more stories about our collections on our Rhagor website.
Native breeds of livestock can be seen in the fields and farmyards, and demonstrations of farming tasks take place daily. Visitors gain an insight into the rich heritage and culture of Wales, and the Welsh language can be heard in daily use amongst craftsmen and interpreters.
There are also galleries with exhibitions of costume, daily life and farming implements. Special exhibitions are also held regularly. The galleries now include the exciting and innovative Oriel 1 space, with changing exhibitions exploring life and identity in today's Wales.
Throughout the year, St Fagans comes to life — literally — as traditional festivals, music and dance events are celebrated.
St Fagans explores all aspects of how people in Wales have lived, worked and spent their leisure time. Like generations of visitors, you will be inspired by its celebration of Welsh traditions and lifestyles.
St Fagans, Cardiff
Open 10am-5pm daily