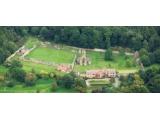 | | |
| --- | --- |
| Venue Info: | Parking |
| Looking for: | Heritage, Historical, Parks & Gardens |
| Address: | Staddlebridge, Northallerton, North Yorkshire, DL6 3JG |
| Postcode: | DL6 3JG |
| Age Group: | All Ages |
| Kids Activity: | Outdoors |
| Telephone: | 01609 883494 |
| Website: | Click Here |
---
Set amid woodland in North Yorkshire, this unusual monastery is the best preserved Carthusian priory in Britain.
Mount Grace Priory is the perfect tourist attraction for a relaxing and peaceful day out. Discover how the monks lived 600 years in the reconstructed monk's cell and herb plot.
The crumbling masonry and open grassland have become home to a collection of wildlife that has taken advantage of what previous owners, including the monks, left behind. The famous priory stoats inhabit the passages under Mount Grace and are possibly the best-known colony of stoats in Yorkshire and even the British Isles.
Don't Miss
Spectacular snowdrops at Mount Grace Priory
Two new rooms opened in the arts and crafts style
The reconstructed monk's cell
A glimpse of the famous priory stoats
The revamped herb plot and gardens
GUIDEBOOK: MOUNT GRACE PRIORY
Price: £3.50
FURTHER PRICING DETAILS:
National Trust members admitted free, except on event days. Prices are valid from 1 April 2017 to 29 March 2018.
ABOUT GIFTAID
The Gift Aid admission price includes a voluntary donation of 10%. Provided you have paid enough UK Income or Capital Gains Tax * (to cover all of your Gift Aid donations in this tax year), English Heritage is able to reclaim tax on the whole amount you have paid - that's 25p on every £1. This extra money enables us to undertake vital conservation and education projects and ensure that many of England's most important historic sites can continue to be enjoyed by future generations.
* Other taxes such as Council Tax and VAT do not apply.
OPENING TIMES
1 APRIL - 30 SEPTEMBER 2017
NOTES
Last admission 30 minutes before closing time
HOLIDAY OPENING TIMES FOR THIS PERIOD
Good Friday
14 Apr 2017
10:00 - 18:00
Easter Sunday
16 Apr 2017
10:00 - 18:00
Easter Monday
17 Apr 2017
10:00 - 18:00
Early May Bank Holiday
Spring Bank Holiday
29 May 2017
10:00 - 18:00
Summer Bank Holiday
28 Aug 2017
10:00 - 18:00
1 OCTOBER - 31 OCTOBER 2017
1 NOVEMBER 2017 - 29 MARCH 2018
30 MARCH 2018 ONWARDS
Opening times will be available nearer the time