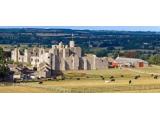 | | |
| --- | --- |
| Venue Info: | Parking |
| Looking for: | Heritage, Historical, Parks & Gardens |
| Address: | Castle Hill, Middleham, North Yorkshire, DL8 4QG |
| Postcode: | DL8 4QG |
| Age Group: | All Ages |
| Kids Activity: | Indoors |
| Telephone: | 0370 333 1181 |
| Mobile: | 0196 962 3899 |
| Website: | Click Here |
Attraction Information:
---
No day out in the Yorkshire Dales would be complete without a visit to Middleham Castle. Once the childhood home of Richard III, you can relive the Castle's illustrious history and unlock the deeds of its great owners.
Although roofless, extensive remains of the fortified palace still survive, making Middleham a fascinating castle to explore.
Why not also visit nearby Richmond Castle and Barnard Castle for more action packed days out in the Dales.
Don't Miss
The exhibition highlighting the castle's most notable personalities
Fantastic views of Wensleydale from the viewing platform
The beautiful 15th-century replica of the Middleham Jewel
The remains of the oven and horse mill in the castle grounds
FURTHER PRICING DETAILS:
Prices are valid from 1 April 2017 to 29 March 2018.
ABOUT GIFTAID
The Gift Aid admission price includes a voluntary donation of 10%. Provided you have paid enough UK Income or Capital Gains Tax * (to cover all of your Gift Aid donations in this tax year), English Heritage is able to reclaim tax on the whole amount you have paid - that's 25p on every £1. This extra money enables us to undertake vital conservation and education projects and ensure that many of England's most important historic sites can continue to be enjoyed by future generations.
* Other taxes such as Council Tax and VAT do not apply.
OPENING TIMES
1 APRIL - 30 SEPTEMBER 2017
NOTES
Last admission 30 minutes before closing time
HOLIDAY OPENING TIMES FOR THIS PERIOD
Good Friday
14 Apr 2017
10:00 - 18:00
Easter Sunday
16 Apr 2017
10:00 - 18:00
Easter Monday
17 Apr 2017
10:00 - 18:00
Early May Bank Holiday
Spring Bank Holiday
29 May 2017
10:00 - 18:00
Summer Bank Holiday
28 Aug 2017
10:00 - 18:00
1 OCTOBER - 31 OCTOBER 2017
1 NOVEMBER 2017 - 29 MARCH 2018
30 MARCH 2018 ONWARDS
Opening times will be available nearer the time