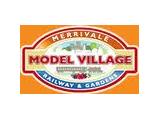 Looking for:
Parks & Gardens
Address:
Marine Parade
Great Yarmouth
Norfolk
Postcode:
NR30 3JG
Age Group:
All Ages
Kids Activity:
Indoors and Outdoors
Telephone:
01493 842097
Website:
Click Here
---
Welcome to Merrivale Model Village, one of Great Yarmouth's best-loved attractions, a fantastic model village set in an acre of floral landscaped gardens on the sea front.
Take your time to discover this captivating model village and its charming inhabitants. Wander around the maze of paths and humpback bridges, spot the cricketers playing on the village green in their whites, marvel at the firemen carrying out a daring rescue from a smoking building and relive all the magic of the funfair in miniature.
Merrivale Model Village is open daily from 10am between 26th March and 30th of October.
* From 24th July until 1st September, visit Merrivale after dusk to see the buildings and houses come alive as street lamps are lit and lights appear at windows.
Last Admission
Last admission to the Model Village is one hour before we close. One hour is the minimum time we recommend for a visit, so avoid disappointment and make sure you allow plenty of time to explore. (seasonal last admissions apply)
Admission prices 2011 including the New 9 Hole Traditional Crazy Golf
Adults £6.50
Child £4.75
Senior Citizens £5.75
Under 3 Free
Super Saver (2 adults + 2 children) £20.00
Season Tickets (prices held for 2011)
Family (2 adults + 2 children) £55.00
Adults £20.00
Child £15.00
Senior Citizens £18.50
Disabled Visitors
We are Wheelchair friendly for chairs up to 26.5" wide and we do have a loan wheelchair available. Prices are as above with one registered career per disabled visitor charged at £2.00. We also have toilet facilities for the disabled.
Easy Access
Paths are quite narrow, but single buggies and wheelchairs have easy access. We are sorry, but unfortunately double buggies are too wide to fit round the paths.
We are pleased to welcome dogs into the Model Village as long as they are kept on a leash and under control at all times.