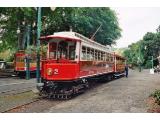 Looking for:
Childrens Activities, Transport
Address:
Manx Electric Railway
The Promenade
Douglas
Isle of Man

Telephone:
Postcode:
IM2 4NR
Telephone:
01624 861706
Website:
Click Here
Attraction Information:
---
The Manx Electric Railway is an electric inter-urban tramway connecting Douglas, Laxey and Ramsey in the Isle of Man. It connects with the Douglas Bay Horse Tramway at its southern terminus at Derby Castle at the northern end of the promenade in Douglas, and with the Snaefell Mountain Railway at Laxey.
The railway's route is undulating and passes through areas of scenic beauty. For that reason, among others, many holiday visitors to the Isle of Man take an excursion on one of the trams.
Welcome to Manx Electric Railway Online – dedicated to the history and current operation of the historic Manx Electric Railway, running since 1893 along the eastern coast of the Isle of Man with the majority of Victorian & Edwardian era infrastructure and rolling stock still in use.
Stops and Stations
Although well-known for its rural nature, it still comes as a surprise to most passengers that there are more than sixty official 'stations' or 'stops' on the M.E.R network. Many of these are little more than footpaths across the railway, especially on the northern section between Laxey and Ramsey, however over the years the line has possessed a number of substantial stations with cafeterias, large waiting areas and even one or two hotels!
As with the lines rolling stock, many of the original buildings survive, although the majority have been modified, repainted, or replaced outright.
1 Day Rover:
The 'Go Explore' Ticket or Card is available priced at £16.00 per adult, £8.00 for children (aged 5-15), or £39.00 per family (for two adults and up to three children aged 5 to 15 years. Children under 5 travel free.).
This allows for unlimited travel on Manx Electric Railway, Snaefell Mountain Railway, Bus Vannin Bus Services (Excluding Manx Express), Isle of Man Steam Railway and Douglas Corporation Horse Tram Services for the day.
It is also available in:
3 day Go Explore Card – (£32.00 adult, £16.00 child, £75.00 family)
5 day Go Explore Card – (£39.00 adult, £19.50 child, £95.00 family)
5 day Go Explore Heritage Card – (£55.00 adult, £27.00 child, allowing for unlimited access to Manx National Heritage sites)
7 day Go Explore Card – (£47.00 adult, £23.50 child, £115.00 family)
Popular Return Trips:
Derby Castle to/from Laxey: £10.80 adult, £5.40 child
Derby Castle to/from Ramsey: £12.40 adult, £6.20 child
Derby Castle to/from Snaefell Summit (changing at Laxey): £14.00 adult, £7.00 child
Concessions:
Consession Fare Information is available HERE.
Dogs and Bicycles:
Dogs are allowed to travel on the railway free of charge, however they are not allowed to occupy a seat.