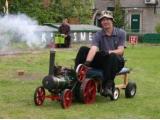 Looking for:
Childrens Activities, Transport
Address:
Lynnsport Miniature Railway
Lynnsport and Leisure Park
Greenpark Ave
Kings Lynn
Norfolk
Postcode:
PE30 2NB
Website:
Click Here
---
Lynnsport Miniature Railway; a 5" and 7.25" gauge club track offering rides to children of all ages on selected afternoons of the year. Enjoy a ride on our newly reconstructed and relocated Railway, pulled by locomotives built by members of the King's Lynn and District Society of Model Engineers.
Trains hauled by battery electric locomotives, steam locomotives work as available. Refreshments and toilet facilities are available inside the adjacent Sports Centre.
Model Carts or Stage coaches, Hot air engines, Internal combustion engines, Long case clocks, Ornamental clocks, Military vehicles, Motor cycle parts, Gear boxes, Machine tool accessories, Dividing heads, Jigs, tools and fixtures, Measuring tools and instruments, Restoring mechanical machinery, Railway rolling stock, Diesel locos, Electric locos, Steam traction engines, Steam locomotives and Stationary steam engines?
In your spare time, do you make things in Metal? Perhaps using a lathe or a drill, or you enjoy making things by hand?
Are you a novice, an expert or maybe a beginner?
You make models? Or wish to start? Maybe you prefer to take an interest just for good company?
Admission:
All fares £1
Opening Times:
'please see website/Facebook page'