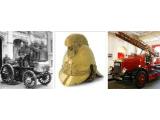 Looking for:
Heritage, Museums / Galleries
Address:
Winchester House
94A Southwark Bridge Road
Southwark
London
England
Postcode:
SE1 0EG
Age Group:
All Ages
Telephone:
020 8555 1200
Website:
Click Here
---
Explore our museum
Come and visit the London Fire Brigade Museum. Explore the museum's fire station, once part of the original Southwark fire station in the 1870s and home to a unique collection of historical fire engines. Learn about why the call of 'beer-oh' was so important for the pumping of fire engines in the eighteenth century, how firefighters had to weather the elements on the way to a fire and how sirens replaced bells in the twentieth century.
Be a time traveller
Travel through time and discover why the Great Fire of London was so influential to the history of firefighting and why water squirts and leather buckets weren't enough to stop the fire and gunpowder was used instead. Visit the gear room of a Victorian fire station to see how tough the job was in the 1860s when the fire brigade first became a public service in London.
World War Two room
In The World War Two room learn about the role of the fire service during the Second World War and hear the adventures of the 'heroes with grimy faces' working bravely to protect their city. Finally finish your adventure learning about the London Fire Brigade today and how the Brigade serves and protects the people of London.