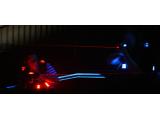 Looking for:
Active, Childrens Activities
Address:
Laser Maze
30 Church Street
Wellingborough
Northamptonshire
Postcode:
NN8 4PA
Telephone:
01933 441300
Website:
Click Here
Attraction Information:
---
Laser Maze offers you the ultimate laser tag game. Using state-of-
the-art, computer controlled equipment, you try to score points by
shooting your opponents with our high-tech lasers. You can deactivate
other players for a short time and you can even earn extra points by
deactivating the bases inside the arena (but be careful, they can shoot
back!). The game is played in our huge, 2700 sqr foot laser labyrinth
on 2 floors filled with special effect lighting, great music and eerie fog
all creating an exciting atmosphere, adding to the overall game
experience. Suitable for players ages 7 up. We are situated in the
centre of Wellingborough, Northants. We offer Childrens (or adults)
Birthday Parties, special rates for Group Bookings (of ten or more)
and Private Hire. Walk-in customers welcome.
Admission:
1 Game £4.50 each
2 Games £7.50 each
3 Games £9.50 each
Opening Times:
Term Time:
Monday to Thursday 12 noon to 8pm
Friday 12 noon to 10pm
Saturday 10am to 10pm
Sunday 10am to 8pm
Holidays:
Monday to Thursday 10am to 8pm
Friday 10am to 10pm
Saturday 10am to 10pm
Sunday 10am to 8pm
Open later Monday to Thursday on request.