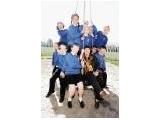 Looking for:
Outdoor / Active, Outdoor Play Areas
Address:
84, Victoria Rd,
Saltney,
Chester,
Cheshire
Postcode:
CH4 8SS
Kids Activity:
Outdoors
Telephone:
01244 680399
Attraction Information:
---
New play and adventure park worth a visit!
CHILDREN in Lahce have reason to celebrate with the opening of a new adventure play area.
Lache Adventure Playground Association (LAPA) has established the facility to replace the playground which had to be demolished two years ago.
The playground is designed for use by 8- to 13-year-olds, with younger children admitted under supervision.