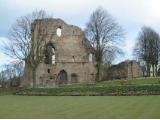 Looking for:
Heritage, Historical, Museums / Galleries
Address:
Castle Yard
Knaresborough
North Yorkshire
Postcode:
HG5 8AS
Telephone:
+44 (0)1423 556 188
Website:
Click Here
---
A stronghold of Medieval Kings, Knaresborough Castle still stands towering over the River Nidd. A visit to the site includes a tour to discover what Royalty got up to in the King's Tower, get a glimpse of the dungeon and walk through the underground sallyport.
Visit the Courthouse Museum, housed in one of the Castle's oldest surviving buildings. Find out about Knaresborough's fascinating history and the colourful characters who have contributed to it, such as Eugene Aram, the infamous 18th century murderer!
Get a glimpse of what life was like for children and adults alike living in a Medieval Castle and view the rare surviving Tudor courtroom.
Knaresborough town is a short walk away where you can explore the riverside, cobbled streets and much more.