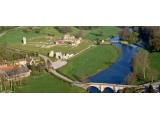 | | |
| --- | --- |
| Venue Info: | Parking |
| Looking for: | Heritage, Historical, Parks & Gardens |
| Address: | Whitwell on the Hill, Malton, North Yorkshire, YO60 7JS |
| Postcode: | YO60 7JS |
| Age Group: | All Ages |
| Kids Activity: | Outdoors |
| Telephone: | 0370 333 1181 |
| Mobile: | 01653 618768 |
| Website: | Click Here |
---
Beautifully placed between the city of York and the town of Malton , the riverside ruins of Kirkham Priory are set in the beautiful Derwent valley near the Yorkshire Wolds.
At this peaceful tourist attraction, learn all about the secret visit of Winston Churchill during the Second World War and unlock the connection between Helmsley Castle and the priory.
A perfect place to stop if on a family day out or if you're walking or cycling in this area of outstanding beauty and discover the story of monk's life or enjoy a picnic by the river in the Augustinian ruins.
Don't Miss
The newly uncovered medieval floor tiles
The monastic washbasins
The story behind Winston Churchill's secret visit
The Gatehouse, bedecked with the heraldry of the De Roos family
The Paignton Heritage Society are holding a Coffee and Hot Cross Bun Morning on Friday 25th March 2016 from 10.30am - 12.30pm. This is a great opportunity to pop along and find out more about Kirkham and what the Society do.
GUIDEBOOK: KIRKHAM PRIORY
Price: £2.99
FURTHER PRICING DETAILS:
Prices are valid from 1 April 2017 to 29 March 2018.
ABOUT GIFTAID
The Gift Aid admission price includes a voluntary donation of 10%. Provided you have paid enough UK Income or Capital Gains Tax * (to cover all of your Gift Aid donations in this tax year), English Heritage is able to reclaim tax on the whole amount you have paid - that's 25p on every £1. This extra money enables us to undertake vital conservation and education projects and ensure that many of England's most important historic sites can continue to be enjoyed by future generations.
* Other taxes such as Council Tax and VAT do not apply.
OPENING TIMES
1 APRIL - 31 JULY 2017
NOTES
Last admission 30 minutes before closing time
HOLIDAY OPENING TIMES FOR THIS PERIOD
Good Friday
14 Apr 2017
10:00 - 18:00
Easter Sunday
16 Apr 2017
10:00 - 18:00
Easter Monday
17 Apr 2017
10:00 - 18:00
Early May Bank Holiday
Spring Bank Holiday
29 May 2017
10:00 - 18:00
1 AUGUST - 31 AUGUST 2017
1 SEPTEMBER - 30 SEPTEMBER 2017
1 OCTOBER - 31 OCTOBER 2017
1 NOVEMBER 2017 - 29 MARCH 2018
30 MARCH 2018 ONWARDS
Opening times will be available nearer the time