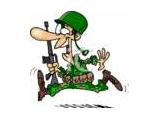 Looking for:
Active, Childrens Activities, Outdoor / Active, Sports & Leisure
Address:
The Croft
Startley
Chippenham
Wiltshire
Postcode:
SN15 5HG
Kids Activity:
Outdoors
Telephone:
01249 721196
Website:
Click Here
Attraction Information:
---
J Company runs Outdoor Laser Combat for Kids aged 9 - 13. J Company's Woodland Battlefield is only 2 mins from Jct.17 M4 Join in J Company's Cpl. Spike's event just for fun or choose the Birthday Party Package. J Company is open all year round, check out our website for Special Events during School Holidays.
Missions
Our missions are normally based on Team games. Featuring an unlimited amount of ammo. and a preset number of lives for each player.
The Teams are distinguished with different colour tab on the guns and a coloured arm band.
SEARCH & DESTROY: Intelligence reports have been received to say that Alpha Team are on their way to Blow the Bridge. It's up to Bravo Team to hold their positions until reinforcements arrive.
GARRISON SEIGE: Bravo Team are dug in along a forward defensive line. If one part of the line breaks the whole line may crumble fast!
HILL 192: The enemy are hidden on this infamous hill. Will you be beaten back and give up? I hope not! You only have a limited time to push the enemy back and capture the hill.
CAPTURE THE FLAG: Each Team will defend their own flag as well as trying to capture the oppositions flag. Who will dare to steal the glory?
On the day of your event:
1. Don't forget to bring your outstanding payment and authority forms!
2. Please ensure appropriate clothing is worn. We do not supply overalls.
a) dark top with long sleeves
b) long trousers/jeans - no shorts even in hot weather
c) adequate supporting footwear - in wet weather, football boots can be worn
d) Gloves can be worn, particularly in cold weather
3. Please arrive 15 minutes before your session start time. We'll be there to meet you!
4. Your party will be given a safety and equipment briefing
5. Your party will be divided into two teams, along with other groups in your session
6. Each player will be issued with a team armband, a helmet and a rifle
7. Players will then be escorted to the battlezone to begin their missions!
8. If your Group has ordered the birthday package, then rations will be served from the NAAFI on return from the battlezone.