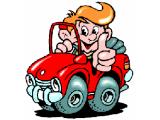 Looking for:
Childrens Activities, Transport
Address:
Hoveringham
Nottinghamshire
Postcode:
NG14 7EE
Age Group:
3-5, 6-9, 10+
Kids Activity:
Outdoors
Telephone:
07971 439522
Website:
Click Here
Attraction Information:
---
Children enjoy learning and practicing the rules of the road with Jumicar. From the age of 6 to 13 they can drive real junior-sized cars powered by environmentally friendly engines, just as if they were driving on real roads. Younger children can be passengers or can drive with the help of a parent or jumicar staff.
The jumicar experience gives them a fun way of learning road awareness skills, the importance of obeying the rules of the road, being considerate to other road users and being aware of the hazards on the road. Taking part in an exciting and enjoyable experience on our circuits, they learn almost without realizing it and at a fantastic pace, how to behave safely in a car – as both driver and as a passenger – and how to behave safely as a pedestrian.
During our Opening Times you can just Arrive and Drive - no bookings are necessary.
Jumicar is a brilliant place to come for a birthday party.
Jumicar will come to your event, town festivals, open days, fairs, family fun days, corporate event etc - bringing the cars and track equipment. We do hold full public liability insurance.
Everything points to jumicar
Outdoor Activities for children
• learning through play
• greater safety on the roads
• Childrens go-karting - the jumicar cars are mini jeeps and sports cars
• children's parties
• an enjoyable leisure activity