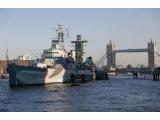 Looking for:
Heritage
Address:
Morgan's Lane
Tooley Street
London
Postcode:
SE1 2JH
Age Group:
All Ages
Kids Activity:
Indoors and Outdoors
Telephone:
0207 940 6300
Website:
Click Here
---
One of the most powerful large light cruisers ever built, HMS Belfast is now the only surviving vessel of her type to have seen active service during the Second World War.

Serving Britain for 32 years, she played an important role in both the Second World War and the Korean War as well as performing peacekeeping duties throughout the 1950s and 1960s. Saved from destruction in 1971, HMS Belfast is now part of the Imperial War Museum and is the first ship to be preserved for the nation since Nelson's Victory.
Through its team of staff and volunteers – many of whom are veteran crew – the Imperial War Museum is dedicated to making sure that HMS Belfast still has a role to play in reminding visitors of her unique place in Britain's maritime heritage.
Click on the left-hand links to take a virtual tour of the ship, learn more her history, view the most recent preservation projects on board or join the HMS Belfast Association.
Please note: children under 16 must be accompanied by an adult. Please allow 1½ - 2 hours for your visit. HMS Belfast is not a suitable site for "Heelys" and we would strongly recommend that parents make sure their children have appropriate footwear when planning their day out. We want you and your family to have a safe and enjoyable visit.
Adults
£13.50*

Child (under 16)
FREE

Senior/Student
(60+ years and students with identification)
£10.80*

Disabled
£8.10*

Unemployed
£6.75*