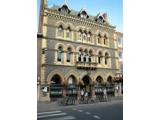 Looking for:
Heritage, Museums / Galleries
Address:
Hereford Museum and Art Gallery
Broad Street
Hereford
Herefordshire
Postcode:
HR4 9AU
Age Group:
All Ages
Kids Activity:
Indoors
Telephone:
(01432) 260692
Website:
Click Here
Attraction Information:
---
Hereford Museum and Art Gallery, housed in a spectacular Victorian gothic building, has been exhibiting artefacts and works of fine and decorative art connected with the local area since 1874. Although the exterior of the building has changed very little the museum and gallery have kept up with the times.
The exhibitions begin in the foyer of the building with a regularly changing small display in the foyer case. Don't miss the Kenchester mosaic on your way upstairs and the changing art exhibitions on the stairwell walls. The museum is full of interesting local history with hands-on elements for all the family.
Around the walls of the museum is the timeline. Created by artist Harry Brockway this timeline sets out the major periods of history and depicts local events, places or museum objects. The exhibits themselves are then ordered according to both the historical era to which they belong and to one four main themes - Herefordshire as a cultural county, a productive county, a natural county and a border county. Exhibits include a hive of live bees, a 2-headed calf, a 2 metre long fish, swords of every shape and size, elements of costume and textiles and much more besides.
The art gallery is host to changing exhibitions and changeovers happen every six to eight weeks. Check the events page for details of all our exhibitions.
Workshops are held every school holiday and you can find details of these along with any lectures or talks on the events page.
The building is fully accessible and access for wheelchairs is via the lift, located at the back of the Library on the ground floor. We also have excellent provision for the blind and visually impaired, with Braille guides, large print, audio and staff fully trained in guiding and audio-description techniques.
Open: All year, Tuesday to Friday 10am-5pm. Saturday 10am - 4pm.
Closed: Sundays, Mondays, Good Friday, Christmas Day, Boxing Day, New Years Day
ADMISSION FREE