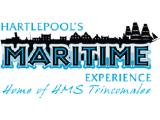 Looking for:
Heritage, Museums / Galleries, Transport
Address:
Hartlepool's Maritime Experience
Jackson Dock
Maritime Avenue
Hartlepool
Durham
Postcode:
TS24 0XZ
Kids Activity:
Indoors and Outdoors
Telephone:
01429 860077
Website:
Click Here
Attraction Information:
---
Hartlepool's Maritime Experience, (formerly known as Hartlepool Historic Quay) is a superb re-creation of an 18th century seaport and a fantastic place to visit for families, groups and schools - in fact everybody. It brings to life the time of Nelson, Napoleon and the Battle of Trafalgar.
Travel back in our mari-time machine to experience how it was aboard a real British naval frigate, two centuries ago. Explore the historic quayside, featuring 'Pressganged', 'Fighting Ships', realistic period shops and houses and much more.