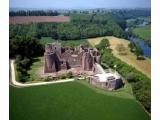 Looking for:
Heritage, Historical
Address:
Ross-on-Wye
Herefordshire
Postcode:
HR9 6HY
Kids Activity:
Indoors and Outdoors
Telephone:
+44 (0)1600 890 538
Website:
Click Here
Attraction Information:
---
Goodrich stands majestically on a wooded hill commanding the passage of the River Wye into the picturesque valley of Symonds Yat. The castle was begun in the late 11th century, by the English thegn Godric who gave it his name. A generation later the splendidly preserved square keep which still forms its core was added, probably in the time of Richard 'Strongbow' de Clare, Earl of Pembroke and Lord of Goodrich 1148-76.
Under King John, Goodrich was granted along with the earldom of Pembroke to the famous William Marshal, a great castlebuilder who may have initiated work on the inner ward. Each of the Marshal's four sons inherited the fortress in turn, the last dying childless at Goodrich in 1245.
Thereafter the fortress and earldom passed to Henry III's half-brother, William de Valence, who rebuilt its defences and living quarters in the most up-to-date style.
Goodrich still boasts one of the most complete sets of medieval domestic buildings surviving in any English castle. William's widow Countess Joan frequently stayed here with an entourage of up to 200, entertaining her relations and friends in the most lavish style.
During the Civil War, Goodrich was held successively by both sides. Sir Henry Lingen's Royalists eventually surrendered in 1646 under threats of undermining and a deadly Parliamentarian mortar. The famous 'Roaring Meg', the only surviving Civil War mortar, has returned to the castle after over 350 years.
A new café, shop and visitor facilities are now open.