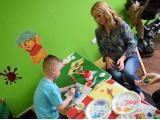 Looking for:
Creative / Learning
Address:
Go Create
3 Bridge Court
Liverpool New Road
Preston
Lancashire
Postcode:
PR4 5BF
Telephone:
01772 616898
Website:
Click Here
---
Go Create! Is a fun filled day out for children that gives them the freedom to unleash their arty side. It really doesn't matter if they are a budding Picasso or they simply like to splash paint around and make a mess.

Inside Go Create you will be delighted by our child friendly decor. We have child friendly sized tables and chairs suitable for ages 1-3 years, 4-6 years and 7+.

We have worked hard to provide an engaging, positive and worthwhile experience to all those that visit. We have a total of 66 brightly coloured drawers that contain almost any craft item you can imagine.

We have reams of paper in various colours and sizes. We have all the paints and glues and clay and paper mache and feathers and goggly eyes you could ever hope for.

To provide inspiration for your child's project we provide easy to understand and follow guides. This by no means you need to follow them to the letter, allow their imagination to run free.


Admission:
Child 3+ £5
Child 1 to 3 £2.50
Under 1s Free
Opening Times:
6 Days a Week 10am to 6pm Tuesday to Sunday.