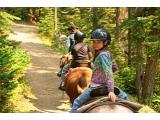 Looking for:
Horse Riding
Address:
Gleneagle Equestrian Centre
Allington Lane
West End
Southampton
Hampshire
Postcode:
SO30 3HQ
Telephone:
023 8047 3370
Website:
Click Here
---
The friendly team of instructors at Gleneagles Equestrian Centre all hold British Horse Society qualifications and they are experienced in teaching at all levels, giving confidence and support to young children and nervous riders as well as coaching at more advanced levels for examinations or competitions.
Everybody is catered for!
There are 2 all weather menages: the Olympic size one is used for teaching and many regular riders enjoy working for BHS progressive tests, who often then become career students and train here for their BHS AI examination and pony club certificates! So you never know where this hobby is going to end!
Instructional courses are held regularly, giving the pleasure of owning a pony for the week and offering the young rider the opportunity to ride and care for their specific individual pony throughout including tuition on riding, practical stable management and hacking out (for those sufficiently competent).
Whether you require a quiet trek or a fast ride, they have the horses to cater for your abilities and have direct access to the bridleway running through scenic Itchen Valley Country Park.
Admission:
One Hour Group Lesson
£24
£26
Half Hour Group Lesson
£16
£18
45 Minute Private Lesson
£38
£40
Half Hour Private Lesson
£25
£28
One Hour Semi-Private Lesson
£28 £30
Half Hour Semi-Private Lesson
£22 £25
Four Day Course
£145
£165
RDA Half Hour Lesson
£20
£22
Stable Management One Hour
£18 £20
Stable Management Half Hour
£14 £16
40 Minute Walkout
£18
£20
Pony Club Lesson 1.5 Hour
£25
Pony Club Lesson 1 Hour 10 Minutes
£20
Opening Times:
Booking required. Year round availability.