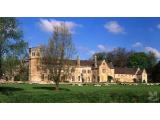 Looking for:
Heritage, Museums / Galleries
Address:
Lacock Nr Chippenham
Wiltshire
Postcode:
SN15 2LG
Age Group:
All Ages
Telephone:
01249 730459
Website:
Click Here
Attraction Information:
---
Lacock Abbey was founded as a nunnery in 1232. After the Dissolution of the monasteries by Henry VIII the Abbey was closed and in 1539 sold to landowner William Sharington who converted the Abbey into a family home. Although he destroyed the church and added an octagonal tower and courtyard, he did retain the monastic cloisters which were used as a location for the recent Harry Potter Films. The Fox Talbot Museum Commemorates the life and work of William Henry Fox Talbot, former owner of the Abbey and photographic pioneer. In 1835 he created the first ever photographic negative, taken of one of the Abbey windows. There are lots of events and activities at Lacock throughout the year including open air theatre, family days, walks and talks.
Country house created out of a medieval abbey, former home of William Henry Fox Talbot, a pioneer of photography
* Medieval cloistered abbey converted into a fine country house
* Newly-restored botanic gardens and greenhouse
* Fascinating museum dedicated to the 'Father of Modern Photography'
* Uniquely preserved country village
* Location for films, Harry Potter, Pride and Prejudice, Cranford Chronicles and The Other Boleyn Girl