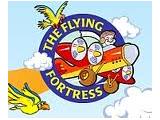 Looking for:
Indoor Play Areas
Address:
Northern Grainstore
Ford Airfield
Ford
Arundel
West Sussex
Postcode:
BN18 0HY
Kids Activity:
Indoors
Telephone:
01903 733550
Website:
Click Here
Attraction Information:
---
The Flying Fortress is a family entertainment centre for all the family to enjoy.
The Centre is the creation of the Roberts family who all had an input into the project.
It took Violaine and her family four years and a lot of hard work to make the dream come true, with Ricochet Productions filming them for the Channel 4 documentary series 'Risking it All'.
The frame itself was created by Prime Play of Canada following a concept developed by Violaine herself.
The Roberts children were brought in as expert consultants during the design phase.
The playframe is in the shape of an aeroplane and includes soft play areas for toddlers, Mirror Mazes and Racing Slides.
To make sure there's something for everybody Violaine made sure that they were sympathetic to the parents by giving them soft sofas and a cafe offering a wide range of food and drinks to enjoy whilst the children play.
The teenagers have pool tables to keep them entertained whilst the babies and toddlers have a separate safe place to play in and special weekly sessions just for them.
The Flying Fortress was proudly launched in March 2005 with a huge thumbs up from all visiting children. But Violaine and her team at The Flying Fortress are developing quite a reputation winning some major awards during the past year.
Prices
Our current entry fees are as follows:
0-2 Years: £4.00
3-4 Years: £5.00
5-13 Years: £6.00
Babes in Arms (with older child and adult) Free
Babes in Arms (with adult only) £1.00
14 Years - Adults £1.00