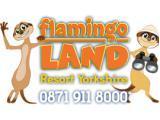 Looking for:
Theme parks, Zoos & Wildlife
Address:
Kirby Misperton, Malton
North Yorkshire
Postcode:
YO17 6UX
Age Group:
All Ages
Kids Activity:
Indoors and Outdoors
Telephone:
0870 752 8000
Website:
Click Here
---
Journey through The Lost Kingdom's vast African plains, the clear blue skies of Swoosh! and the wet and wacky world of Splosh! and we're sure you'll discover that our Theme Park has something for all ages to enjoy.
If you're looking for adrenaline-fuelled thrills, then eight extreme rides are waiting just for you, including the record-breaking Mumbo Jumbo, featuring the world's steepest drop!
There are also over a dozen family attractions, from The Lost River Ride to Zooom!, our latest aeroplane coaster. Alternatively, you can add a whole new dimension to your viewing pleasure by joining Happy Feet's Mumble and friends in Flamingo Land's 4D Cinema.
Flamingo Land is the UK's only Theme Park, Zoo and Holiday Village , all set in over 375 acres of North Yorkshire parkland. With so much to see and do, visit us for the day and you'll go home wishing you'd stayed longer !!!
Flamingo Land is one of the UK's most recognisable theme parks, providing family fun and entertainment for over 40 years, as well as the opportunity to see our legendary pink flamingos.
We were the first site in Europe where you could visit a /park/animals zooat one site, and over the last 40 years we have developed a theme park to meet the needs of families, focussing on making sure there is
a ride or rollercoaster for everyone. Whether you want to entertain kids big or small, we are sure to provide a family day out to remember.
The theme park boasts rides and roller coasters of all sizes. For the thrill seekers we have everything.
Flamingo Zoo:
With tigers from the tropical forests of South East Asia, giraffes from sub-Saharan Africa, Penguin Coast, our amazing new penguin pool, and all the kids' favourites in our Muddy Duck Farm collection, you can enjoy a truly amazing view of the animal kingdom in the heart of North Yorkshire.
What's more, with regular handling sessions and talks by our zoo keepers, there's sure to be something that'll capture your imagination.
Standard admission prices
Ticket Type Online price On the day Price Adults and Children
Four years old and over £31.00 £37.00 Two Consecutive Days Ticket
Four years old and over. Total cost for two days. £44.00 £50.00 Children three years old and under.
Proof of age may be required* - Free Senior Citizens - £25.00 Disabled Guests / Carers (each)
Proof required, please refer to our terms of admission - £25.00 Family Ticket
(2 adults & 2 children or 1 adult & 3 children) £100.00 £116.00