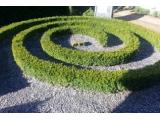 Looking for:
Sightseeing
Address:
The Bournville Treasure Hunt Treasure Trail
Sycamore Road
Bournville Green
West Midlands
Postcode:
B30 2AA
Telephone:
01872 263692
Website:
Click Here
---
The model village of Bournville was created by George Cadbury fom 1895 who, as a Quaker, was appalled at the squalor that workers lived in in central Birmingham. Everything that would make for a happy community was built around a village green, with lots of open space and roomy, light homes. The only thing omitted was a pub, as it was against his beliefs - even today this holds true.
Admission:2016 Prices:
£6.99 per Trail (not per person). One Trail booklet recommended for a group of 4 to 5 people. Opening Times: 2016 Opening Details:
Trails are self-guided and can be instantly downloaded from our website. Follow the Trail, solve the clues and see the sights on any day of your choosing. There is no need to phone us for opening details. All Trails are designed to be completed in daylight and that is your only restriction.