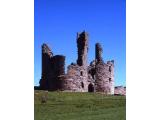 | | |
| --- | --- |
| Looking for: | Historical, Heritage |
| Address: | Northumberland |
| Postcode: | NE66 3TT |
| Telephone: | 01665 576231 |
| Website: | Click Here |
Attraction Information:
---
Dramatic Dunstanburgh Castle was built at a time when relations between King Edward II and his most powerful baron, Earl Thomas of Lancaster, had become openly hostile. Lancaster began the fortress in 1313, and the latest archaeological research carried out by English Heritage indicates that he built it on a far grander scale than was hitherto recognised, perhaps more as a symbol of his opposition to the king than as a military stronghold. The innovative gatehouse, for instance, competed with the new royal castles in Wales.
The earl failed to reach Dunstanburgh when his rebellion was defeated, being taken and executed in 1322. Thereafter the castle passed eventually to John of Gaunt, who strengthened it against the Scots by converting the great twin towered gatehouse into a keep. The focus of fierce fighting during the Wars of the Roses, it was twice besieged and captured by Yorkist forces, but subsequently fell into decay. Its impressive ruins now watch over a headland famous for seabirds.
Owned by The National Trust, maintained and managed by EH. Free to NT members.