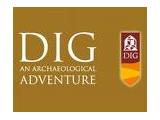 Looking for:
Childrens Activities, Indoor Play Areas, Museums / Galleries
Address:
DIG
St Saviour's Church, St Saviourgate
York
North Yorkshire
Postcode:
YO1 8NN
Kids Activity:
Indoors
Telephone:
01904 615505
Website:
Click Here
---
DIG is a hands-on archaeological adventure giving kids the chance to become trainee 'diggers' and discover the most exciting artefacts from 2000 years of York's history!
With four special in-door excavation pits, all based on real-life digs in the city and filled with replica Roman, Viking, medieval and Victorian finds, children can grab a trowel and explore how people lived in these times.
Starting your training in our Briefing Hut you will learn about about the world of archaeology & what you will be doing during your DIG adventure.
Owned by the same archaeologists who discovered the Viking-Age City and created JORVIK Viking Centre. DIG offers you a unique archaeological adventure to get you on your way to becoming a real archaeologist. This is a one of a kind! So...
DIG IT!
SHAKE IT!
SEE IT!
FEEL IT!
FIND IT!
"One of the best family days out. No other experience gets you as close to the excitement of archaeological discovery."
Admission:
Adult £6.50
Child £6
Family 2 and 2 £20
Under 5s free!
Opening Times:
10am to 5pm daily.
Closed 24 through 26 December.