LOOKING FOR:
Indoor Play Areas
ADDRESS:
Unit 3, Acton Rd,
Long Eaton,
Nottingham,
Nottinghamshire
POSTCODE:
NG10 1FR
AGE GROUP:
Toddlers, 3-5, 6-9
TELEPHONE:
0115 973 6532
WEBSITE:
CLICK HERE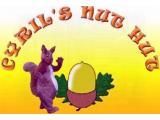 Cyril's Nut Hut is a fabulous indoor play centre,

with adventure play and soft play equipment designed to keep kids of all ages happy - from tots just starting to crawl, right up to active kids of 11 years old

(4ft 11 max

)

.

Cyril the squirrel loves to climb and so will your children in this vibrant and challenging soft play adventure centre. 3 levels of challenging soft play has been designed by parents of young children who understand the importance of developing your child mentally as well as physically, without them even realising all the work they're doing!

Allow your child to play in a safe and secure environment whilst you relax and chat over a coffee, fun is to be had by all.

We are a 100% parentally supervised play centre. We do not believe in charging an unfair admission fee for adults, we never have and never will.

For strict safety reasons we do not allow adults or anyone over our height restriction of 4'11" (1.5m) to play on the apparatus, however adults are allowed to enter to aid/assist their child/children.

A three tier structure was designed with all of the elements carefully added. Over time improvements have been made and it is still ongoing ten years later.

Parent & Baby/Toddler sessions

Mon - Fri 10 - 3 (term time only)

Arrive between these times for a discounted rate of £2.75 per walking child.
(£1.50 for crawling children, babies free).
A free juice is also included.

---