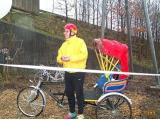 Looking for:
Childrens Activities, Outdoor / Active, Parks & Gardens
Address:
Cycle the Solar System
Moor Lane
Askham Bar
York
North Yorkshire
Postcode:
YO24 1LW
Telephone:
01226 772574
Website:
Click Here
Attraction Information:
---
The scale of our model is 575,872,239 to 1. So every 100 metres along the track corresponds to more than 57 million kilometres in space.

This means that along the route the speed of light is about 1.16 mph, so it is easy to walk at around 3 times the speed of light and to cycle at about 10 times the speed of light.
Beyond Pluto the nearest star is Alpha Centauri, more than 40,680,200,000,000 km away. On the model this would be 70,641 km from Riccall, or about one and three quarters of the way around the Earth!
Admission:
Free trail access.
Cycle hire prices start around £15 per adult bike per day.
Opening Times:
Open Daily