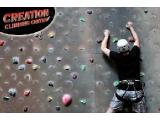 Looking for:
Active, Outdoor / Active, Sports & Leisure
Address:
582 Moseley Road
Birmingham
West Midlands
Postcode:
B12 9AA
Age Group:
6-9, 10+, Teens
Kids Activity:
Indoors
Telephone:
0121 449 8000
Website:
Click Here
---
Creation was built with climbers in mind. Our wall were specifically designed to by vertical, slabby and overhanging, with various angles, and aretes.
Since our opening in 2004 we have strived to build on our early success to bring our customers the ultimate climbing experience. We have continued to develop the centre, expanding outwards, creating new rooms, and incorporating new climbing technologies on a regular basis.
We now have in excess of 18000 annual members, many of which use us frequently, and have taught over 10000 children in our four years of business. Booking continue to grow, and with our expansion in to Team Building sessions Creation has a host of activities available to it's members 363 days a year.
Our latest venture ses our constructing a new 8000sqft bouldering area, and the installation of a huge overhang in the main climbing room. All these new additions to the centre are thanks to the regular customer base that visit us. Your money has been ploughed back in to the business you support so that we can continue to grow and bring you new and exciting opportunities.
In 2010 we will also begin plans to incorporate an Ice Climbing Wall in to Creation, which will eventually mean that climbers of the Midlands have everything they ever wanted from an indoor climbing centre, right on their doorstep.