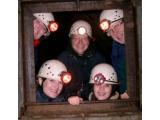 Looking for:
Childrens Activities, Heritage, Museums / Galleries
Address:
Corris Craft Centre
Corris
Machynlleth
Powys
Postcode:
SY20 9RF
Other Venues:
"Sat Nav Warning: Please put "Corris Mine Explorers" into Google / your sat nav and not our postcode. We are currently in discussion with Google to try to resolve this problem as many visitors have used our postcode and been misdirected to a Forestry site approximately 1/4 down the road from us."
Age Group:
6-9, 10+, Teens, All Ages
Kids Activity:
Indoors and Outdoors
Telephone:
01654 761244
Website:
Click Here
Attraction Information:
---
Our underground adventures take you into parts of the mine, hand-dug and worked by Victorian miners in 1836 and areas worked up until the 1970s when the mine was abandoned. As the door creaked shut for the very last time a virtual time capsule was left behind which you can now explore.
After years of research, our top Mine Guide will share stories of mining life as you explore the underground with some climbing and scrambling if you wish (these parts of the trip are optional).
All of our trips run with a small group of explorers which means that we can largely tailor make them to suit your wishes, interests and abilities and those of the other members of your group. You'll discover old mining tools, machinery, drinking vessels, candles and cigarette packs discarded by the miners whilst stories of life in the mine spill out in such a way you can almost feel it creaking back to life. 100% authentic, adventurous and fun.
For groups of 6+ we offer an Exclusive Mine Expedition which is like an off-piste adventure where you explore into fresh territory.
Mini Mine Explorer trip (1 hour) – min. age 8. Maxi Mine Explorer trip (2 hrs) – min. age 10. Exclusive Mine Expedition (half day) – min. age 13.
Open 28 March to 1 November 2020. Also open at other times for Group Bookings. Advance booking essential.
Admission:
Mini Mine Explorer trip: Adult £13.50, Child £8.50
Maxi Mine Explorer Trip: £29 per person
Exclusive Mine Expedition:Phone us with your group details and requirements.