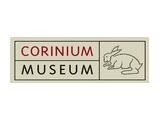 Looking for:
Heritage, Museums / Galleries
Address:
Corinium Museum, Park Street
Cirencester
Gloucestershire
Postcode:
GL7 2BX
Age Group:
All Ages
Kids Activity:
Indoors
Telephone:
01285 655611
Website:
Click Here
Attraction Information:
---
Step through a triumphal arch to arrive in Corinium; second largest city in Roman Britain, population c. 15, 000.
Experience life as a Roman. Marvel at the stunning mosaics. Dress as a Roman soldier. Explore their engineering and artistry.
Admission Charges
Adults £4.80
Senior Citizens (age 60+) £4.00
Children (5 to 16) £2.40
Students, JSA, ESA and ES40 holders £3.20
Families (up to 2 adults and 5 children) - 10% discount off the adult/children charges

Annual season ticket (valid for 1 year)
Visit the Corinium Museum as many times as you like! A season ticket is valid for a whole year from the date of purchase and entitles the holder to free entry to the museum and temporary exhibitions.
It allows you to make the most of our busy program of events and exhibitions. Plus, it also gives you great discounts on lectures and workshops.
Adults £14.25
Senior Citizens (age 60+) £11.25
Children £7.00
Students £9.50
Families 10% discount off the adult/child season ticket prices

Opening Hours
Monday to Saturday - 10:00am to 5:00pm April to October 2010. 10:00am to 4:00pm November to March
Sundays 2:00pm to 5:00pm April to October. 2:00pm to 4:00pm November to March